NYC Campaign to Increase Girls' Self-Esteem: The Jury is Out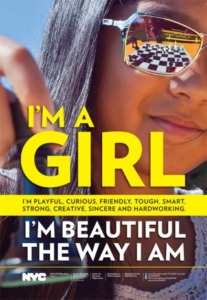 New York City Mayor, Michael Bloomberg, has been involved in numerous efforts to make New Yorkers healthier, some of which have been criticized as disgusting (including an ad showing a man gulping fat ) and invasive (attempting – but failing – to put limits on the size of sugary drinks).
However, Bloomberg's new initiative has a more positive slogan: "I'm a Girl: I'm Beautiful the Way I Am." The New York City Girls Project will display girls laughing and playing around, with captions emphasizing ways that girls can be beautiful, such as by being curious, smart, and hardworking. The campaign also adds a girls' self-esteem curriculum to 200 after-school programs.
As Amelia Thomson-Deveaux noted, It's not a perfect campaign – some people have criticized the campaign for continuing to put too much emphasis on "beauty," (Katy Waldman, Slate). The campaign also doesn't incorporate the use of Facebook, where many girls receive messages about body image and the "thin ideal." Social media is where campaigns could truly make an impact. Even psychologists understand the importance of Facebook – this blog post will be going up on Facebook today.
So, the Girls Project isn't a perfect campaign, but it's a start. A badly needed one.
-This post comes from Britt Ahlstrom, a first-year DiSH Lab grad student.
https://sites.lifesci.ucla.edu/psych-dishlab/wp-content/uploads/sites/289/2022/09/dish_logo-removebg-preview-300x260.png
0
0
Britt
https://sites.lifesci.ucla.edu/psych-dishlab/wp-content/uploads/sites/289/2022/09/dish_logo-removebg-preview-300x260.png
Britt
2013-10-10 10:27:57
2013-10-10 10:27:57
NYC Campaign to Increase Girls' Self-Esteem: The Jury is Out